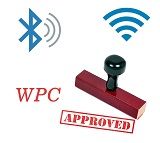 WPC: ETA & Import License, Equipment Type Approval & DPL
The Wireless Planning & Coordination (WPC) Wing of the Ministry of Communication & Information Technology, created in 1952, is the national radio regulatory nodal agency of the Government of India and is responsible for planning, regulating, and managing the limited resources of Radio Frequency (RF) spectrum and associated satellite orbits, including geo-stationary satellite orbit as well as licensing of wireless stations in the country under the Indian Telegraph Act 1885 (ITA 1885) and the Indian Wireless Telegraphy Act 1933 (IWTA 1933), as statutory requirement.
Who can Apply?
Manufacturers/Importers of products with Bluetooth and Wifi features are required to get the WPC approval and Import license Certificate prior to be sold into India Market.
Process Time (ETA)
Total time for Equipment Type Approval will be approx. 4-5 days from the date of submission of Application documents.
Why
ABSOLUTE VERITAS (AV)?
Absolute Veritas (AV) will handle end to end pre-registration request, sample preparation, documentation, test report and application process for WPC Certification Services.
Products under WPC Approval
Wireless Bluetooth watches, Bluetooth Speakers, Bluetooth Headphones, Wireless music players, Wireless Water Heaters, Wireless Home Appliances, Wireless Car Radio, Radio Frequency Identification (RFID) Tags and Readers, Wireless Medical products used for patient profiling Laptops, Mobile Phones, Wireless Mouse and Keypads, Remote key for entry, Wireless remotes, and any other radio frequency modules.
Services Offered:
• ETA (Equipment Type Approval)
• Import License
• DPL (Dealer Possession License)
• NDPL
• Experimental License
• Demo License or Demonstration License>
• Maritime Mobile Station License
• Aeronautical Mobile Station License